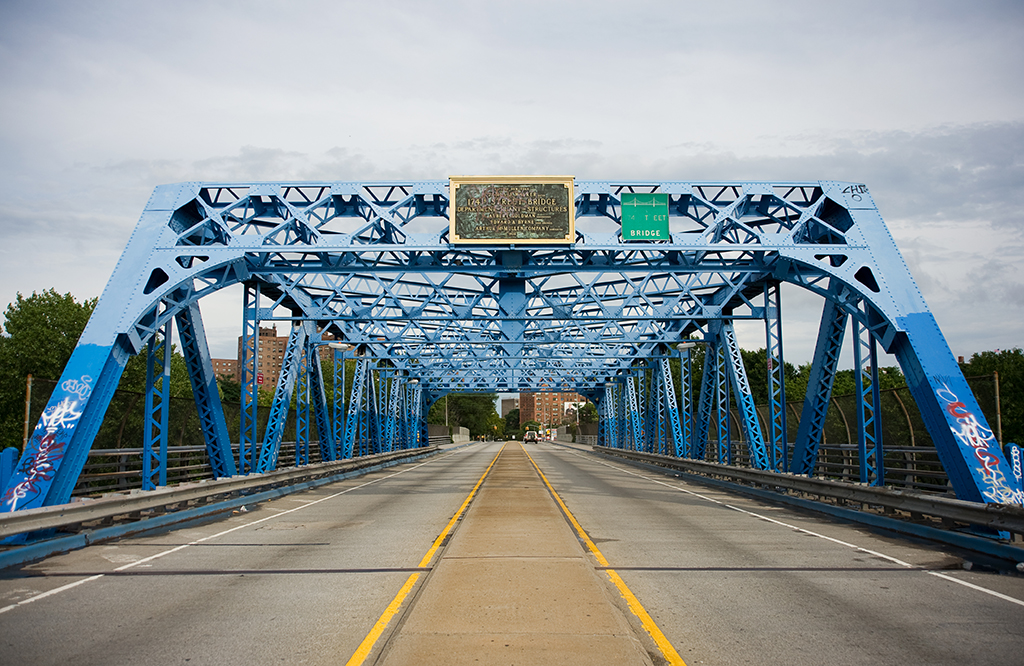 Crosses: Bronx River
Connects: West Farms and Parkchester, Bronx, NY [satellite map]
Carries: 4 vehicular lanes, 2 sidewalks
Design: through truss
Date opened: June 15, 1928
The East 174th Street Bridge carries four lanes of vehicular traffic and two pedestrian sidewalks across the Bronx River and the railroad tracks of Amtrak and CSX in the West Farms section of the Bronx. It has a total length of 589 feet, with a main through truss span of 190 feet, and has a vertical clearance of 30.5 feet.
A bridge across the Bronx River at East 174th Street was in demand for years before it was built. In 1910, six tracks ran just east of the river, operated by the New York, New Haven and Hartford Railroad. That year, the railroad agreed to build bridges over all street crossings. A span was erected at East 174th Street, but only over the tracks. In subsequent years the New York, Westchester and Boston Railway also began using the tracks. Disputes between the railroads and the city over who should pay for the rest of the bridge ensued, and no river crossing or approaches to it were built. By 1918, the finishing of the bridge was considered long overdue, and Bronx property owners requested that the Public Service Commission build the bridge.
By 1925, due to efforts by the Bronx Board of Trade, a proposal for the bridge had been accepted, and plots of land around it started to be bought up. In January 1927, the Board of Estimate finally appropriated $340,000 for the construction of the bridge. Ground was broken on June 20, 1927 by Albert Goldman, Chairman of the Department of Plant and Structures. Bronx Borough President Henry Bruckner and Bronx Board of Trade President John M. Haffen were also there. The bridge opened a month ahead of schedule with a ceremony headed by Mayor Walker on June 15, 1928.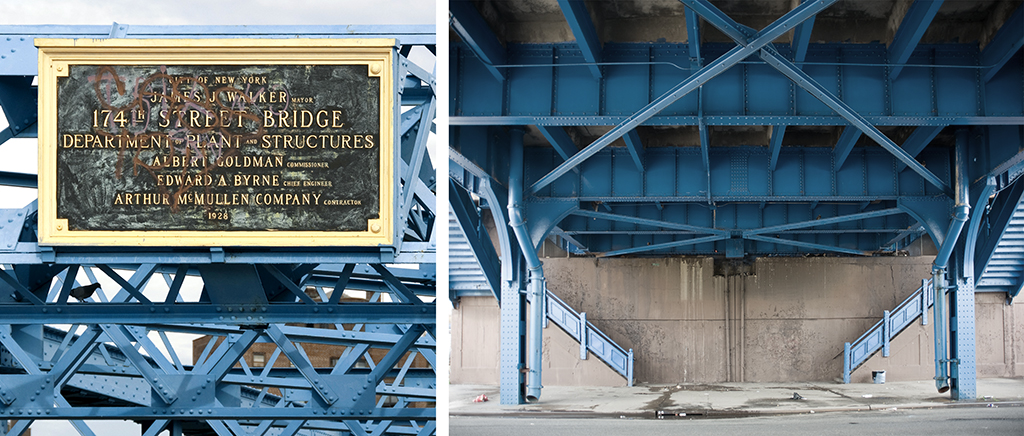 – – – – – –
References
1918, May 19. Demand for Bronx bridge. New York Times. Retrieved from: nytimes.com
1925, December 23. Bronx River plots feature market: Brokers report activity along approach of proposed bridge. New York Times, 34.
1927, June 19. Begin bridge tomorrow: City officials to see ground broken for Bronx River span. New York Times, E9.
1927, June 21. Break ground on site for new Bronx bridge. New York Times, 42.
1928, June 16. New bridge opened over Bronx River. New York Times.