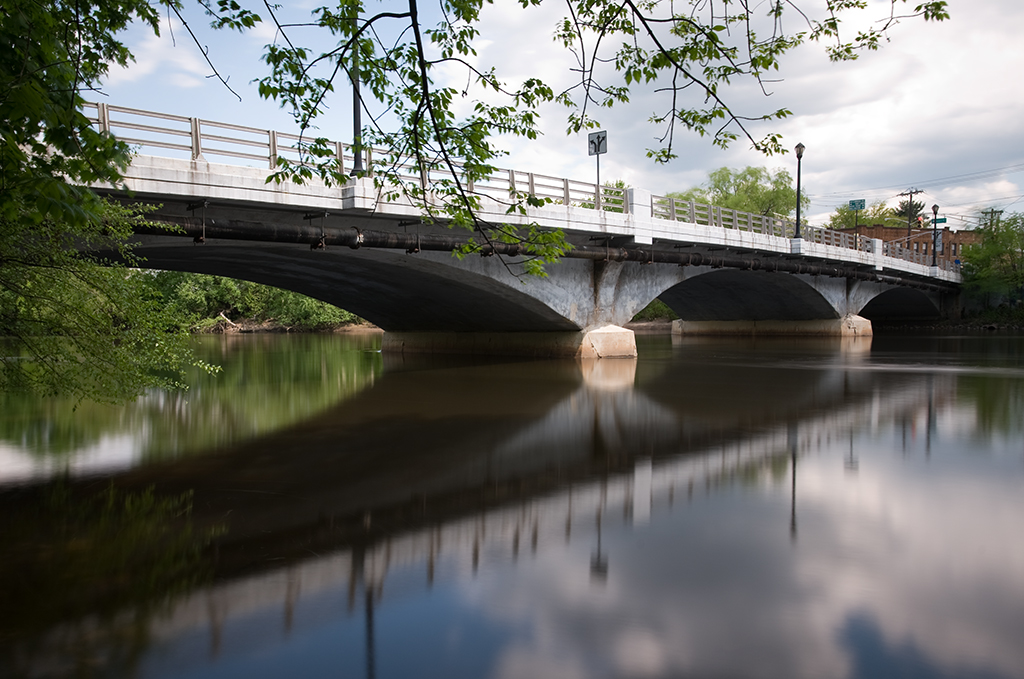 Crosses: Passaic River
Location: Monroe Street connecting Passaic and Garfield, NJ [satellite map]
Carries: 2 vehicular lanes, 1 pedestrian sidewalk
Design: arch bridge
Date opened: June 13, 1908
Postcard view: "Monroe Street Bridge, Passaic, N.J."
The Monroe Street Bridge is a reinforced concrete arch bridge over the Passaic River in New Jersey, connecting the towns of Passaic and Garfield.
Gilbert D. Bogart & East Passaic
In early 1873, Gilbert D. Bogart set out to develop a suburb to the town of Passaic, which he called East Passaic. He and his associates formed the East Passaic Land Company and bought property along the Passaic River from Monroe Street to Van Winkle Avenue. His company was responsible for the first development in the area. In 1875, a bridge across the Passaic was built at Monroe Street by Joseph Scott, and seven houses were also constructed. However, the financial panic of 1873 brought Bogart's project to a grinding halt. Lots on the land acquired by the East Passaic Land Company could not be sold even at greatly reduced prices. The company suffered heavy losses and years passed without any sign of recovery.
On December 8, 1878, Scott's Monroe Street Bridge was washed away when the Passaic River overflowed its banks. In 1881, the Bergen County Short Cut (a branch of the Erie Railroad) was laid along Monroe street, and a rail bridge was built to Passaic (next to where the washed-out bridge had been); a station was created and named after President Garfield.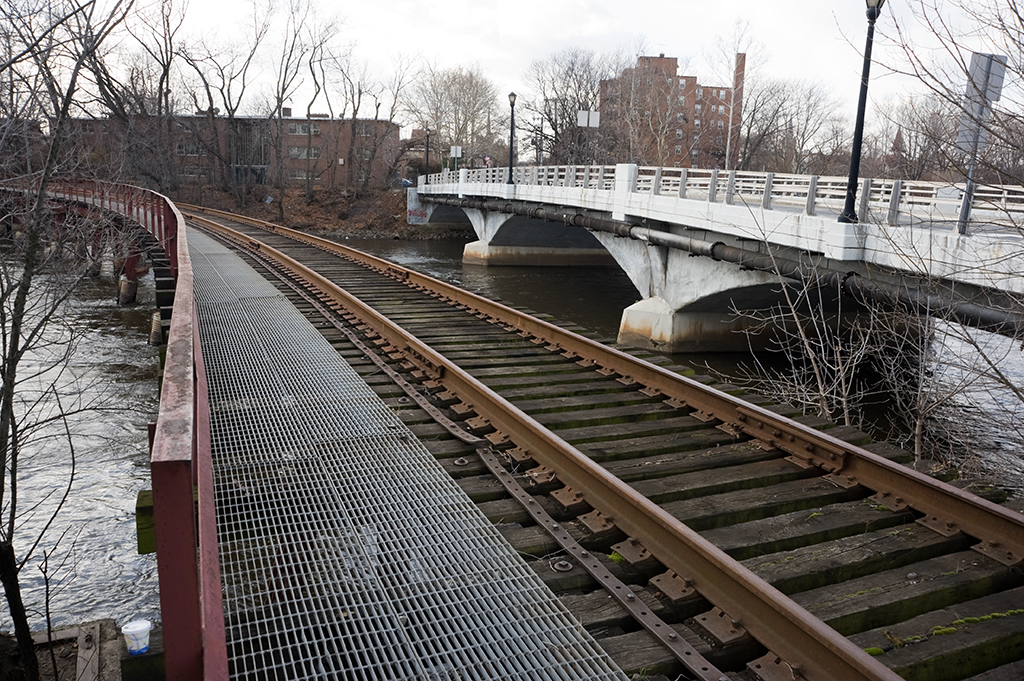 Things still were not improving for Bogart's company, and in 1882 it sold all its land under foreclosure to the Garfield Land Association. The name "East Passaic" had become associated with failure and the town adopted the name of Garfield instead. The land was sold as individual lots by the Garfield Land Association with the remainder going to the newly formed Monroe Street Bridge Land Company, which built a replacement bridge shortly after.
The Current Bridge
The bridge currently crossing Monroe Street was built in 1908 by the C.W. Dean Company of New York. The plans for the bridge had been put together by F.R. Long Company Engineers and Contractors in August of 1907. It is a three-span, 306-foot long deck arch bridge on a concrete and stone substructure. The bridge is made up of three equal elliptical arch spans. It originally featured a decorative railing with vase-shaped balusters. The bridge was important to the industrial and commercial development of both Passaic and Garfield, and is the only existing pre-World War II multi-span concrete arch bridge remaining in the United States.
The Monroe Street Bridge opened on June 13, 1908. A parade was held and Mayor John Karl of Garfield and Mayor Frederick R. Low of Passaic met to officially open the bridge to the public. A celebration was held in a nearby park afterward.
Alterations
The Monroe Street Bridge has been repaired extensively over the years. In 1947 guide rail was added to the curbs, and new concrete curbs followed in 1948. Many repairs to the substructure were made using gunite (a dry form of shotcrete) in 1949. Large parts of the balustrades were missing or badly damaged, and they were replaced by a more utilitarian railing sometime after Bergen County did a survey the bridge in the early 1980s. New Jersey's 2002 survey of the bridge deemed that it had lost much of its "visual integrity" due to the nature of the gunite repairs [1].

– – – – – –
References
1900. Van Valen, James M. History of Bergen County, New Jersey. New York: New Jersey Publishing and Engraving Co. Retrieved from: books.google.com
1922. Scott, William W. History of Passaic and its environs. New York: Lewis Historical Publishing Co. Retrieved from: archive.org
[1] 2002. New Jersey (State). New Jersey historic bridge data, Bergen County, p. 15. Trenton: New Jersey Dept. of Transportation, Bureau of Environmental Services. Retrieved from: state. nj.us
2002. Hanza, Howard D. Garfield. Charleston, SC: Arcadia.
2011. The City of Garfield, New Jersey. History of Garfield. Retrieved from garfieldnj.org