Crosses: Bronx River, Harlem and New Haven Metro-North tracks
Connects: Woodlawn and Wakefield, Bronx, NY [satellite map]
Carries: 4 vehicular lanes, 2 pedestrian sidewalks
Design: supported deck arch
Date opened: April 23, 1931
The East 238th Street Bridge is a concrete arch viaduct crossing the Bronx River and the Harlem and New Haven lines of Metro-North, connecting the Bronx neighborhoods of Wakefield and Woodlawn. On today's maps, East 238th Street is called McLean Avenue in Woodlawn and Nereid Avenue in Wakefield.
Proposals and Delays
A bridge at either East 241st Street or East 238th Street was first proposed by the Public Service Commission in 1915, to eliminate a grade crossing of the New York Central and New York, New Haven and Hartford Railroads. The railroads, not wanting to foot the bill but under obligation to pay for grade eliminations, argued that since the proposed bridge would also cross the Bronx River, the Public Service Commission had no jurisdiction and the matter would have to be resolved by the U.S. Supreme Court. Arguments also persisted as to the location. In August of 1918, a crossing at 238th Street was approved by Commissioner Charles Bulkley Hubell, who found that the Public Service Commission did in fact have jurisdiction over the Bronx River and any bridge to be built there. The Bronx Parkway Commission put forth their opinions on aesthetics in the same year, stating that a bridge at either location needed to be a reinforced concrete arched viaduct, as a steel structure would "mar the beauty of the Parkway" (1918, p. 30). Still, no conclusions were reached.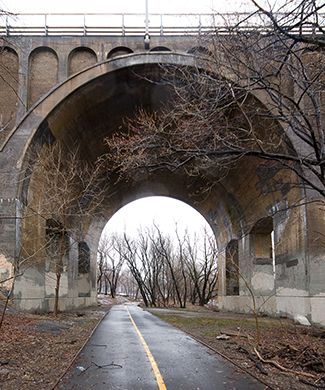 On August 8, 1925, the Transit Commission ordered the railroads to build the bridge at East 238th Street, with the City of New York paying for the portions that did not cross the railroad tracks. However, the railroads continued to resist. An agreement was finally reached on February 2, 1927: the railroads would build two vehicular bridges at East 238th and East 241st Streets, with work on East 238th Street to start immediately.
"Immediately" turned out to be over two years later. Ground was broken by Mayor Walker on June 27, 1929. At the ceremony he talked about the importance of making Yonkers and Westchester County more easily accessible to vehicular traffic.
Construction
The Corbetta Concrete Corporation began construction on July 1, 1929. Corbetta used a 600-foot conveyor belt to place the structural concrete for the viaduct. This was the first successful use of the method, one that grew in popularity thereafter. The viaduct was originally estimated to cost $1,000,000, but wound up costing only $781,200. The completed bridge consists of ten arches built of 92,000 tons of material, is 822 feet long and 80 feet wide, and carries four vehicular lanes and a sidewalk on either side.
Opening
Albert Goldman, Commissioner of Plant and Structures, presided over the opening ceremony on April 23, 1931. A ribbon in the center of the viaduct was cut by Marion Corbetta, the eight-year-old daughter of Roger H. Corbetta, co-owner of the Corbetta Concrete Corporation. Ground-breaker Mayor Walker was unable to attend the ceremony.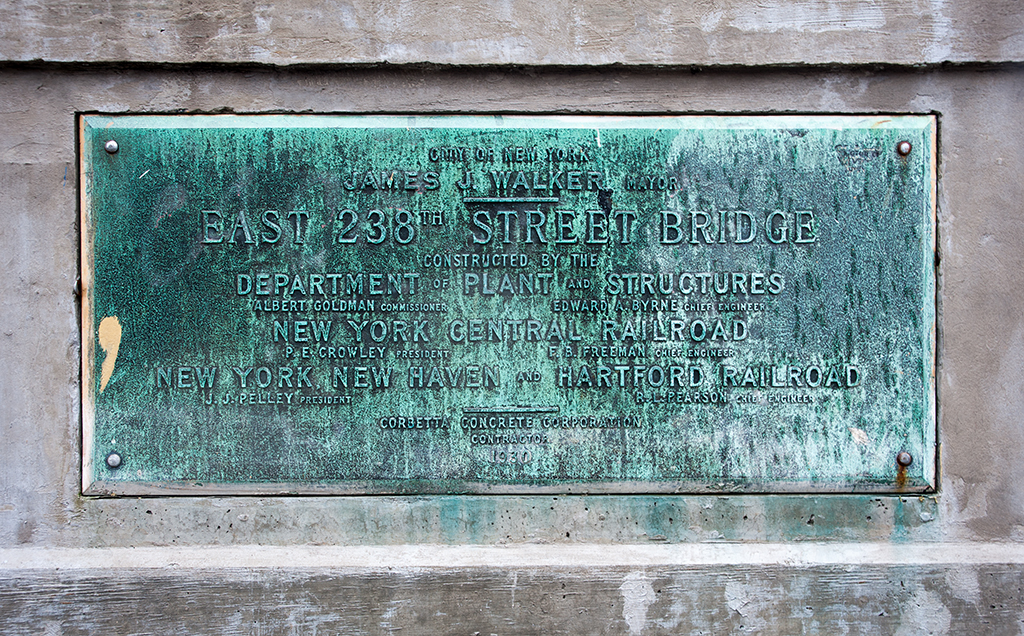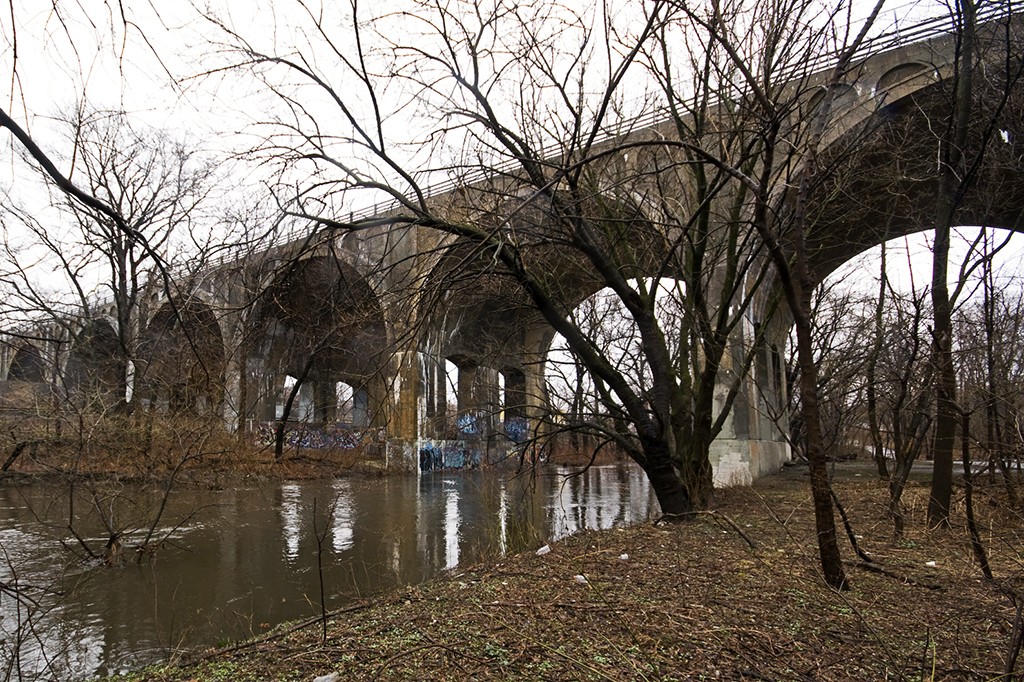 – – – – – –
References
1918, February 10. To bridge Bronx River: Service Commission makes order for viaduct. The New York Times, p.30. Retrieved from: nytimes.com
1918, August 11. Bronx Valley Viaduct: To be erected from Wakefield to Woodlawn Heights. The New York Times, p. 27. Retrieved from: nytimes.com
1919. New York (State). Report of the Bronx Parkway Commission … December 31, 1918. Albany: J.B. Lyon Co.
1922. New York (State). State of New York Transit Commission … First Annual Report (April 25, 1921 – December 31, 1921). Albany: J.B. Lyon Co.
1925, April 9. New order to build Bronx River bridge: Transit board directs New Haven and Central to start 238th Street Viaduct. New York Times, p. 25. (ProQuest Document ID: 104170545).
1927, February 3. Railroads to build two Bronx bridges: Transit Commission announces work will start at once on one at 238th Street. New York Times, p. 23. (ProQuest Document ID: 118639402).
1929, June 8. Three mayors see Bronx bridge begun: Walker turns soil for motor span over the Bronx River Parkway at 238th Street. New York Times, p. 36. (ProQuest Document ID: 95968061).
1931, April 24. Walker is praised at bridge opening: His administration called one of progress by republicans at Bronx Viaduct ceremony. New York Times, p. 17. (ProQuest Document ID: 102229537).
1975, September 1. Placing concrete with belt conveyors. American Concrete Institute Journal Proceedings, Volume 72, Number 9, p. 475.